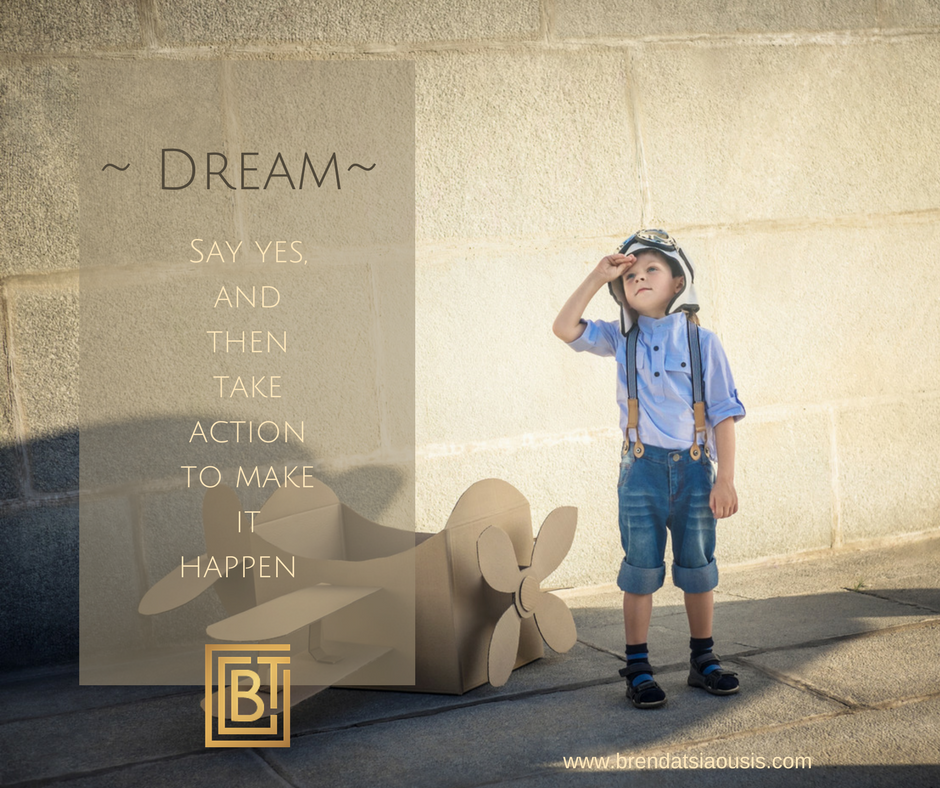 Why Following Your Dream Is One Of The Best Gifts You Can Give Yourself And Others.
"The future belongs to those who believe in the beauty of their dreams.~ Eleanor Roosevelt"
 I am a dreamer, a visionary and truth be told I can miss opportunities NOW by often living way out  in the future. 
If you're smiling to yourself thinking "that's me" then can I say you're in good company. I personally believe we're never too old to dream, however over the past few months I have consciously been aware of living more in the now than in the future and I have found NOW to be a pretty good place. It's been fabulous and I have enjoyed more than a few special moments and said yes to some fabulous opportunities. 
I could give myself a little kick for possibly not living to my fullest potential a little sooner, but I wont as I am also a firm believer that all opportunities are right on time, never too late and never too earlier. 
In the past week I grabbed hold of a massive opportunity – one that I passed up a year ago but have kept on my radar knowing that the time would come when I could confidently say Yes to it… even though it's a big step and I needed to dig deep for the courage to say Yes
So what am I saying Yes too.. Come closer and I will let you in on my little secret. 
I mentioned earlier that I was a dreamer and by this also mean in the literal sense of the word and as a result have broken through some incredible beliefs that I felt were holding me back. In your dreams you can be bigger than life, bolder, stronger, a rocket scientist, fly to the moon and back, discover gold or in my case become an internationally recognised transformational speaker. 
Don't laugh.. Speaking is something I have longed to do since I was a young girl and I can remember standing in front of the classroom prepared to deliver my speeches. I loved it.. every moment of being able to share my experiences, knowledge and wisdom with my peers. 
I envisioned myself standing on stages, walking out towards the audience and delivering a talk that captivated their minds, engaged their hearts and more importantly transformed their lives .
I can't recall when I shelved this dream – but I did…. for a long long time. If you're still reading you may be nodding along. Does shelving your dreams sound all too familiar? I bet it does, but stick with me and we will take a look at why following your dreams is one of the best gifts you can give yourself and others.
Can you guess yet what my little secret is?  
That's it! I grabbed hold of an opportunity to attend Centre Stage Live with the amazing Chantelle Adams who I have been following for more than a year to pursue my dream of becoming a professional speaker. 
I knew that I had to say yes to her speaking program which I might add also includes some incredible bells and whistles and more importantly I get to meet with likeminded impact driven women who want to make a real difference sharing their story. 
It was simple a "HELL YEAH!" excited and terrified moment for me! 
After guiding, coaching and supporting, encouraging and believing in others and helping them to step into their potential as successful business women and entrepreneurs I finally said YES YES YES to me..
I did not do this alone, I had the support of many coaches, loved ones, family, incredible friends and mentors – my hubby and above all my faith and my Creator.
I am off on an adventure – I hope the 1st of many. 
Am I terrified?
A little! and also a lot – but I am excited too. I still need the funds to travel and I will be sharing some crazy offers in the next few weeks to enable me to pay for my ticket.
Ideas, support, belief (Oh, I still need heaps of this) prayer and of course $$ are all welcome.
Here's what I learned going through this process. Some of these may be helpful when you're next standing at a crossroads considering whether to ditch your dream or follow it.
THE DECISION TO SAY YES USUALLY FEELS HARDER THAN IT ACTUALLY IS. 
Thinking about making the decision is actually the hardest part. As humans we are prone to talking ourselves out of anything that may take us out of our comfort zone. Make the decision anyway. What you want is really on the other side of your comfort zone and all it takes is one decision and a whole lot of action to get there. 
NEVER DISCOUNT YOUR SMALL BEGINNINGS.
The mountain you're climbing may seem wide and high. Keep circling – the higher you get the smaller the circumference of the mountain becomes until quite suddenly you reach the top.- Imagine the view from this vantage point. How incredible does it look? 
NEVER GIVE UP ON YOUR DREAMS
Especially God given ones.. How do you know that they are God given..? They never leave your mind, you think about achieving them constantly – the desire in your heart fuels you to move on them. When you think of achieving these dreams you are overcome — something bigger in you .. says.."This is the way – hold on tight." 
NEVER BE AFRAID OF DREAMING BIG DREAMS .
If they frighten you. Good! This means that on your own steam you probably wont not be able to achieve it. Accept help, support and encouragement from others. When you finally achieve these hair raising dreams you will not say "I" did this in my own strength but rather "I did this with the strength of the One who is in me" To God be the glory.
Continue to be authentically you. Serve others wholeheartedly. Offer to give someone a hand up so they too can reach their dreams. Your journey to success is never done in isolation. It takes a village to raise a child and a support team to grow a business, or to reach the pinnacle of your mountain and even saying yes to your dream. Humility will ensure your way up is supported. 
WHEN YOU SAY YES TO YOUR DREAMS, YOU GIVE OTHER PERMISSION TO FOLLOW THEIRS. 
Others are watching (aka your children, loved ones, friends, family, colleagues etc ) Where you know it or not how you allow your light to shine will be an indication to others on how bright they can shine — Shine bright, for the brighter you shine, the more light you shed for others to find and follow their dreams. 
Want the other 10 plus take aways. Let's do coffee.
☕️  To book in a discovery call to learn more about how I can connect you to your big dreams complete this short form and we'll be chatting shortly. 
To the start of a new adventure — will you join me?
Ps :  I's love to hear your story. Do leave a comment below and tell me more about the dream are you following?