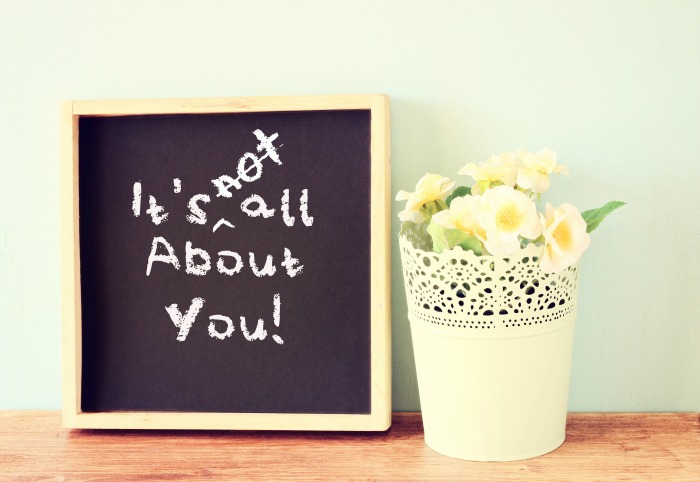 Hey Ms Entrepreneur, It's Not All About YOU!
If truth be told this is something that every small business owner, entrepreneur or soon to be entrepreneur should know.
Let me share with you one thing that every entrepreneur ought to know: 
It's not about you!
Yes, you heard it right.  I can hear you buzzing right now: "What do you mean, it's not about me? This is my business, I do the work, I market to people, and I work my butt off to give them exactly what they want! How could you say it's not about me?"
First of all, stop whining.
You're not getting the point here. Step back a bit, forget about the littlest details and think about the bigger picture. If at this point in your business, you're only caring about what you want and what you'll be getting, then I'm sorry to say this but you're really going to fail big. In business today, the biggest secret that lies beneath every success story is how other people helped them to get where they are. They didn't get to the top on their own.
They were propelled there by the clients that believed in them and helped them prosper. These people are the clients you have and aren't taking care of because you're too busy thinking about what they can do for you instead of what YOU can do for THEM. See, it's a whole different scenario.
Let me explain further. I
t's the golden rule of life:
Treat people how you want to be treated. In business, it rings a lot of bells. As a small business owner or entrepreneurs it's a given that you should give a priority to how you present yourself and your products to your clients.
On the other hand, it's arguably more important that you pay attention and listen to what your clients want. Put yourself in your client's shoes and picture how you, as a client, want to be taken care of. It's all too simple. Make your entire business and marketing strategy cater to your client. Erase your "It's all about me!" mindset and replace it with "It's all about YOUR CLIENT".
The truth is everyone in this world wants to be taken care of, to have their every little whim granted and their every need satisfied. This is what you should go for every time you meet a new potential client. Get their trust and their openness by making it all about them- what they want, what they need, and what you could do for them.
You have to be able to dig up their problem and what exactly they're looking for- and your move is to tell them how you could solve all this, all the while paying attention to what is important to them and how this problem affects different areas of their life you will be able to tap in to something much deeper, connect with their heart and offer your services or products as a solution to their problem.
What you're offering, they'll want.
You just have to be aware during all points of the conversation. Make it about them, and do not babble about your own story or the company's track record (no matter how stellar it is). People couldn't care less about who founded the company on what year, and all that hullaballoo.
If you want to be successful, you have to realise that your business success depends on how people will respond to you. How people respond to you will depend on how you treat them.
People support and buy from people they know, love and trust. It's a cycle of factors that are underlined by hard work, persistence and character building. Make it work both ways. In the end, your potential clients will be the one's who determine how victorious you're going to be in your business. So better to treat them right and give them what they want.
Become the entrepreneur you deserve to be, after all It's not all about YOU?